Air Duct Cleaning System Jacksonville, Ponte Vedra, Orange Park, FL and the Surrounding Areas
What causes dirty ducts?  Let's start with the basics, 20 to 40 pounds of dust is created in your home through simple everyday living.  Dust settles on surface areas, such as floors and furniture, most of the dust stays in the air and recirculates through your air duct system.  An important factor for every family is the quality of air.
If dust is being recirculated this will impact your health and comfort.  Yes, filters help, as with anything else, your air ducts need to be cleaned using a tested system that works.  This is why it is important to have an Air Duct Cleaning System for your home located in or around the Jacksonville, Ponte Vedra, Orange Park, FL areas?
Why Do Clean Air Ducts Impact The Comfort Of My Home?
Being sick, suffering from allergies, or constantly stressing from rising utility bills sound is a miserable existence.  Having an Air Duct Cleaning System on a regular basis for your home located in Jacksonville, FL can help eradicate these problems. Of course, this will leave you and your family happier and more comfortable in your home!
What Exactly Is An Air Duct Cleaning System Jacksonville, Ponte Vedra, Orange Park, FL and the Surrounding Areas?
We are sure you have already read countless articles, which explain the importance of cleaning your air ducts. Here at Envirovac Air Duct Cleaning, we decided to take this a step further. With the help of our certified engineers, we have constructed a professional system, which we adhere to when we clean your air ducts – name another company that will do this for you?
Why Can't I Just Clean My Air Ducts As A DIY Project?
Wait? What…. I have to pay to clean my air ducts! That's the first thought that crosses homeowners minds when we tell them it is recommended to get a professional team in to clean their air ducts. Although the small fee upfront may seem like a waste, imagine you did something wrong? The repair implications alone could be worth dozens of Air Duct System Cleanings in Jacksonville, Ponte Vedra, Orange Park, FL and the Surrounding Areas.
Why Is A Clean Air Duct System So Important?
What if I am willing to risk the health implications, I simply cannot afford to get you guys in right now! Envirovac Air Duct Cleaning understands that life now days is hard. Money is stretched thin, we get it! But, did you know that in the long run, clean air ducts save you money? Yes, you read correctly. Having clean air ducts ensure that your cooling/heating unit is working at optimal performance, shaving your skyrocketing utility bills.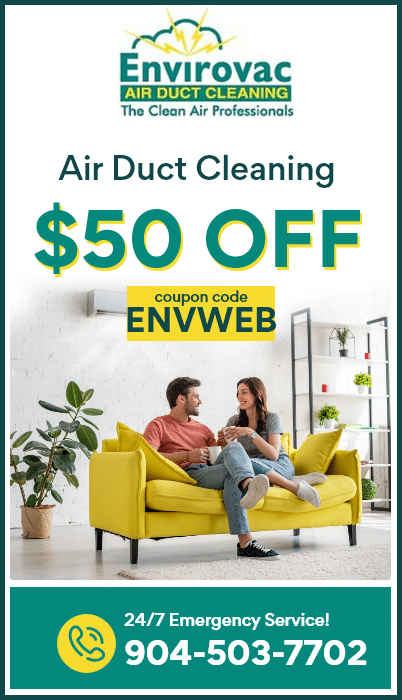 Excellent service. The technician was neat, clean, and knowledgeable. Very pleased with the service and availability of this company and would recommend this company to anyone.
Great service! The technician quickly discovered the problem and fixed it. The price wasn't bad either the technician explained everything thoroughly. Awesome company.
This company is very professional and honest they treat everyone here like family. I'm definitely glad to be apart of the family thank you!